Haberdashery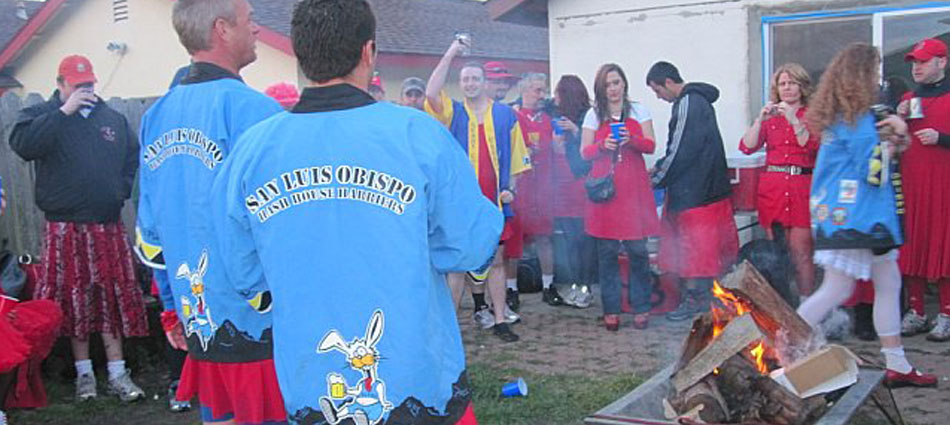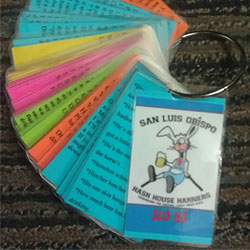 Song Books: $12
As your haBeaver-dasher, I wanted to let you know about the newest acquisition to our hash goodies… Song books! I got these books because they are perfect for those of you that don't know any songs!
Shown in the attached picture, they are laminated cards with songs printed on them! On the front card is our hash's logo, the back card is a card that you can get with your name on it, in between is a pile of hash songs and all are on a ring so that you can wear it easily on your lanyard!
Some of the cards have the first line of popular songs so if you are feeling flustered or are busy scratching that rash, just start with a one liner that everyone (supposedly) will join in on. Some of the songs are variations to some of the traditional songs that you probably don't know, either! And there are songs that are particular to the crime committed, such as DFL, auto hashing or having forgotten your whistle… there is even one for racism! Following that are the words for over a hundred hash songs… with this song book, you will never have to worry about having to drink because you don't know any! And if you are a man, it will make your penis larger and get you laid and as you go through your day you will be accompanied by the "brown chicken brown cow" 70's porno sound track music just like in the movies! And if you are a girl, its the same as above except that it is your portable penis pet that will get larger… it will be the envy of men and women alike… because really, come on? Who doesn't want a big penis? Everyone wants a big penis! When I'm feeling blue, I go to my happy place… and there's a big penis in it! Yes, yes, yes! "I'm dreaming of a big penis…" (sung to the tune of "White Christmas)…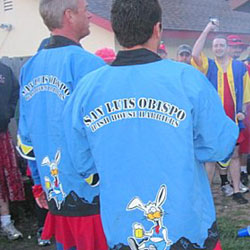 The SLOH3 Hapi Coat: $50
Hapi coats! Hapi coats! Hapi coats! The perfect apparel to wear in circle! They are functional and hashionable at the same time! Two beer-sized inside pockets and on the back of it is the SLOH3 logo… the drunk *again!* SLO hare sprawled on top of the Seven Sisters. Your name is embroidered over your left breast (Yes, I said "breast"! Get over it you "I get no sex" wanks!). Sew your patches on it! Wear it in our circle or if you travel to a different hash! Pass out in it next to the dumpster behind Circle K, waking up in time to find yourself covered with convenience store debris such as old corn dog sticks and gooey hamburger wrappers all the while being molested by a homeless man's mangy dog…
These have to be ordered ahead of time and take about six weeks to get here.
Hashing 101 Shirt: $20
This is a black cotton girlie tee with a deep cut vee neckline… What better way to show off your Girls? And in bling bling it says On On across the front, one On for each Girl! All inside a blingy hash foot! It may not be able to get you a date with a hot hasher, but at least you will look dead sexy while practicing your come hither looks over a Natty Light!
Recent Posts

Calendar

December 2019
S
M
T
W
T
F
S
« Nov
1
2
3
4
5
6
7
8
9
10
11
12
13
14
15
16
17
18
19
20
21
22
23
24
25
26
27
28
29
30
31